American Talk Show making fun of Sistaani, no wonder!
Well, you can´t expect the Kufaar to respect you, when you give BS Fataawa.
If you go to http://www.sistani.org/html/eng/main/index.php?page=4&lang=eng&part=1 you can read this crazy fatwaa for yourself. Here is a screenshot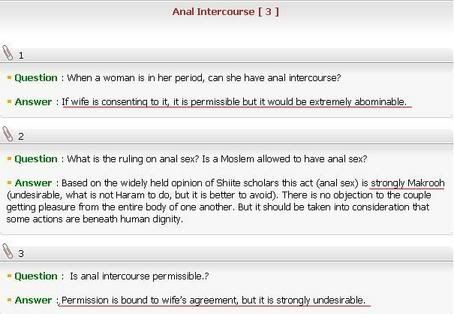 Now look how they make fun of him.
The Prophet sallallahu alayhi wa sallams(Peace & Blessings of Allah be upon Him) cursed the one who does this: "Cursed is the one who approaches his wife in her rectum" (Reported by Imaam Ahmad, 2/479; see also Saheeh al-Jaami', 5865).
Ibn 'Abbaas said: "The Messenger of Allaah sallallahu alayhi wa salaam(peace and blessings of Allaah be upon him) said: "Allaah will not look at a man who has intercourse with his wife in her anus." (Narrated by Ibn Abi Shaybah, 3/529; narrated and classed as saheeh by al-Tirmidhi, 1165).